Winner of the "Retailer's Choice Award" at the largest home improvement show in the world.
EZ Airless Spray Edger offers the best-performing cut-in around windows, doors, trim and more without time consuming prep work.
Perfectly Straight Edges In Seconds without overspray!
Painting the
edges of walls
is one of the most dreaded tasks known to mankind!
Easily paint all of your edges with ease without requiring to tape and/or cut in by hand.
This Ez™️ Airless Spray Edger allows you to paint walls without masking tape and without getting on a ladder to paint edges and walls precisely from the ground like a pro!
Easily spray right up to the edge without tape or shield.
This rolling painting tool for perfect cutting.

Works great for cutting in around windows, and roof lines.

Capacity to paint 30 feet of edges within 15 seconds.

Eliminates time-consuming masking and cutting in with a brush.

Reduces the number of painters needed on a job by 50% or more

Pays for itself in labor savings on the first day on the job

Easily attaches to an extension pole to decrease ladder work, does not require taping around edges.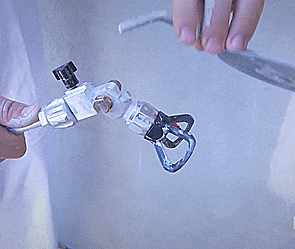 The Ez™️ Airless Spray Edger Tool hooks up to your paint sprayer and features a roller on the end of it that you roll along the edges of your walls as you spray the paint.
Not only does it roll along nicely to keep you moving forward, but it blocks all the paint that would have gotten sprayed onto your ceiling or walls that you don't want to be painted.
Edge Painting is much simpler now without double works!
How is EZ Airless Spray Edger better?








We have 24/7/365 Ticket and Email Support. Please contact us if you need assistance.

We offer free shipping on all our products storewide for a limited time only!

If you don't have a positive experience for any reason, we will do whatever it takes to make sure you are 100% satisfied with your purchase.

Need Help? We've got you covered!
Frequently Asked Questions
Will this work with Graco 390?
Yes, it can work with all spray guns.
Will this spray guide work on the Graco x7
Yes, this will work with that unit.
Does it fit in Graco 390 and Graco mark iv?
This can be used on that paint spraying unit, as long as you are using a standard airless spray gun with a 7/8" thread
Does Wagner 625w work with this tool as it does not have a pressure control?
Wagner 625w is not an easy tool to use, but you can use it regardless.